Shipping and delivery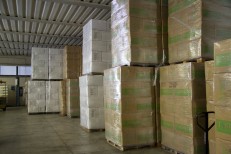 Tubettificio Senese srl has a large warehouse and owns different means of transport, ensuring thus a quick fulfilment of orders and delivering ordered goods within 24 hours all over Italy. For sea or ground shipments abroad, Tubettificio Senese avails itself of the collaboration of specialised carriers guaranteeing thus full safety, reliability and quick delivery in few working days of the spun yarns accessories you have ordered.
Contact us for further information about terms and conditions of shipping and delivery within Italy and abroad. We are available to provide you with quotations and sale offers.